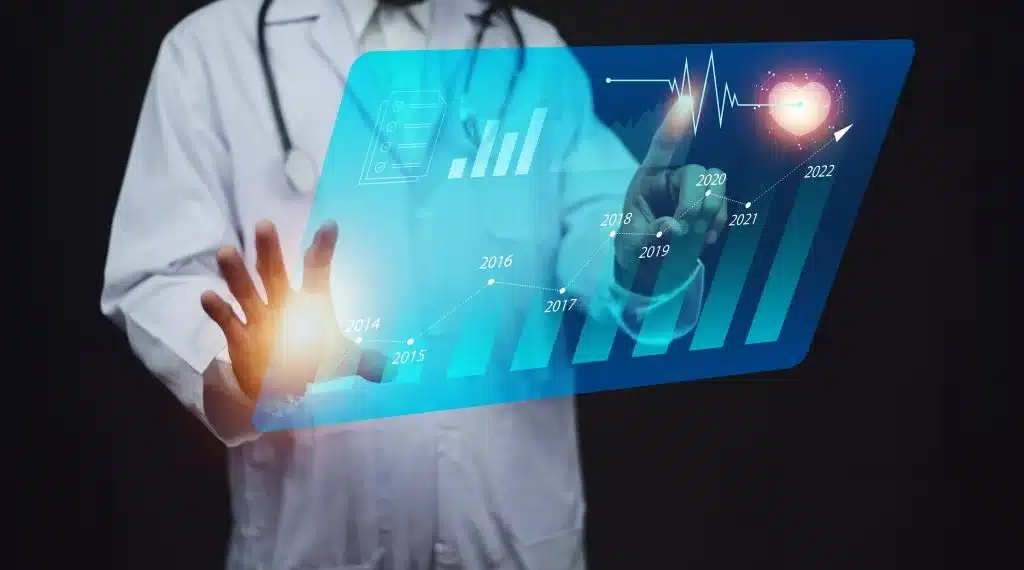 Digital transformation is redefining the way enterprises operate and cater to their customers across industries. It is continually elevating convenience and customer experience with uninterrupted access, combined with 100% accuracy. And this wave of digital transformation has hit the healthcare industry, too, for the better in nations around the world. Before we look at the how, let's first understand what digital transformation means from the context of the healthcare sector.
What Does Digital Transformation Mean in Terms of the Healthcare Industry?
In simple words, digital transformation in terms of healthcare refers to making optimum use of the latest technologies to streamline everyday operations, improve patient care & experience, as well as offer on-demand care that's both effective and affordable.
A few technological advancements that we widely use now account for the most basic examples of digital transformation, for instance, the digitization of your healthcare records, online appointments, and data exchange platforms. These are not only boosting patients' overall experience and quality of care but also simplifying access & operations for stakeholders, leaving a positive impact on the healthcare sector worldwide.
And if we believe the industry experts, this change is here to stay as digital transformation across the world in the healthcare industry is expected to hit $253.6 billion by 2033.
Here are some of the most significant examples of how the healthcare sector has embraced digital transformation and continues to do so.
Digital Transformation in Healthcare: 5 Examples
1. Telemedicine and virtual consultations
One of the key digital transformation components driving a change in healthcare is telemedicine or online doctor consultations. Reaching out to a healthcare provider via phone calls or video calls has been on the rise consistently even before the pandemic. Covid-19 only added fuel to this advancement since the facility is available for a variety of medical needs – from regular care to psychiatry to preventive healthcare.
As per a report, healthcare providers witnessed a growth in patients opting for virtual consultations between the range of 50 to 175 times more than in the pre-covid era.
The primary reasons causing this change are convenience, ease of accessibility, prompt appointment booking, and reduction in traveling time and cost as one can avail care right from where they are. All you need is a smartphone, an internet connection, and an appointment. Moreover, there is always an option for follow-ups in-person.
All of this without compromising on the quality of care. For the providers, such digital transformation has led to a lesser burden on their admin staff, uncrowded waiting rooms, and improved relationships and better communication with their patients.
2. Data aggregation
In today's digital era, healthcare providers and organizations receive diverse health-related data from multiple sources. Take patient-provided information, insurance claims, internal records, external specialists' records, lab reports, and pharmacy and medical device data for example.
In such a scenario, it becomes complex and time-consuming to sort and extract the correct data at the right time which increases the probability of errors in the treatment.
That's where data aggregation comes in as a solution. It brings together patients' healthcare data from disparate sources into one place, creating an all-inclusive profile of patients. That enables timely and more informed treatments, improved quality care, lower wait time, elimination of paperwork, and reduction in admin costs.
Pro tip: if you're looking to adopt data aggregation, opting for cloud migration may make the process smoother and more secure with a reduced scope of downtime.
3. Patient portals
A path-breaking innovation of digital transformation, patient portals provide patients with seamless access to their own health data and medical history. Such portals also allow patients to connect with a healthcare professional and schedule an online or in-person appointment.
Implementation of this technology increases transparency and convenience for both patients and care providers. There is instant access to the required medical information without the time-consuming, and error-prone manual data transfers. Moreover, this trend is keeping patients actively involved in their care program.
4. AI screening
Another popular implementation of digital transformation in healthcare is artificial intelligence. Think of the AI chatbots and voice systems employed by hospitals and clinics. Such systems are designed to gather information from patients, screen them as well as direct them to the right care provider in an instant. These systems can also schedule in-person or virtual doctor visits, enabling speedy medical attention while reducing the burden on the healthcare support staff.
5. Dedicated healthcare apps
With advanced smartphones and wearable technologies, digital transformation in healthcare is unfolding in the form of healthcare apps. Many such apps surfaced during and post covid-19 for contact tracing and covid management. Take Covid Watch and Trace Together for instance. There are also apps like Vida Health that provide customized programs to manage conditions such as diabetes, hypertension, depression, and more. The aim of these mobile applications is to provide correct in-depth information about a particular condition and empower users to seek the right care from their device on-the-go.
Digital transformation is the way forward
With CLOUDSUFI, the path to digital transformation becomes smoother. Whether it is cloud migration service, automation services, application modernization, DataOps, or business process outsourcing, we make the transition a hassle-free process with our custom solutions that effectively overcome any barriers. Begin your digital transformation journey with confidence. Contact us today!