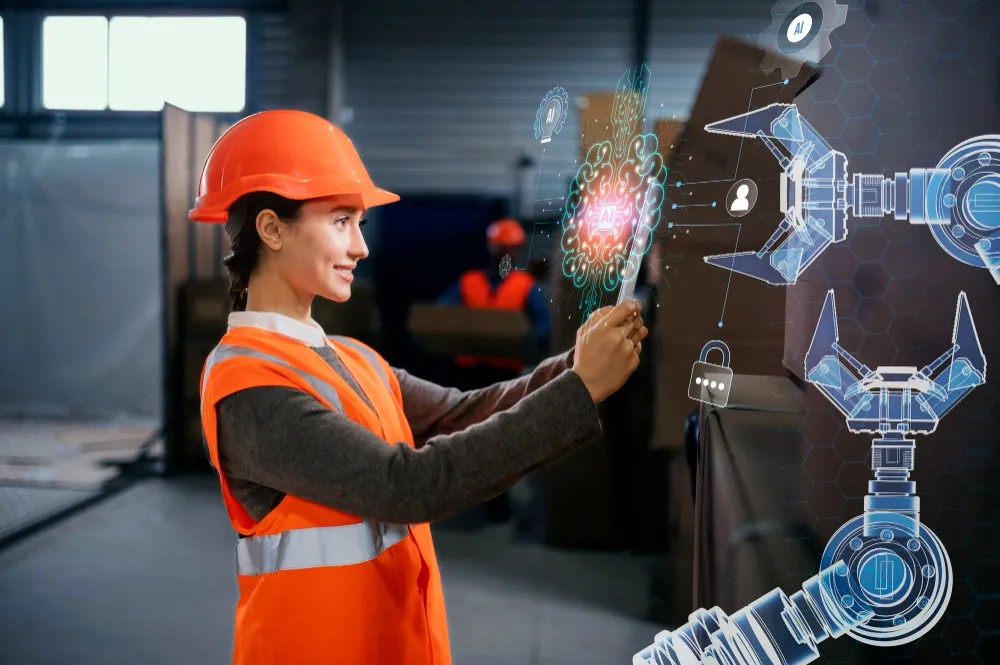 Irrespective of the size of your business, if you're running a manufacturing setup, the phrase "intelligent manufacturing" must be a near-constant in the conversations you're having with your stakeholders. If we've touched a chord with that statement, then this blog is just the read for you. After all, knowing more about any topic (in greater detail than one already does) is a good idea.
We will begin by stating the obvious; that Intelligent Manufacturing (IM) can do the following for you –
Optimize resources
Improves process safety
Lower wastage (on the floor as well as in back-office operations)
Enhance business value
Satisfy customized delivery and quality demands of customers
That said, the not-so-obvious angle of this topic is how IM's raison d'etre is the ubiquitous entity of modern times – Artificial Intelligence (AI).
What's IM got to do with AI?
A March 2023 Forbes article states (accurately) that "while manufacturers are now making investments in advanced technologies, taking the next step that truly makes a factory smart can be daunting." This is where AI enters the picture.
To quote Forbes (again), "AI is core to manufacturing's future because of its ability to enable real-time monitoring which – in turn – provides excellent sources of contextually relevant data that can be used for training machine learning (ML) models."
Simply put, AI assists machines in identifying variations in manufacturing operations, helping them to adapt instantly to unexpected/ evolving situations, such as resolving sudden production bottlenecks, monitoring unanticipated waste levels, and ensuring timely customer deliveries – all this with minimal human intervention.
Going back to the daunting bit – By demonstrating its intuitive abilities capable of enabling greater speed, higher precision, and improved quality control in manufacturing processes, AI has been able to instil confidence in most manufacturers. This has led to manufacturing facilities embracing smart machines successfully, helping manufacturers shift from a reactive approach of addressing issues to a proactive method of managing machinery, processes, and products.
These facilities, often referred to as smart factories, leverage the collective intelligence of individuals, processes, and machines to influence the holistic economic aspects of manufacturing – a phenomenon that is today recognized as Intelligent Manufacturing.
In what ways is AI stimulating IM?
In one of our previous blogs, we had written about how AI is set to drive substantial innovation by reshaping traditional production systems into AI-driven smart factories and the anticipated $37 trillion that such factories will generate by 2025.
Extrapolating from there, this piece identifies the key five ways AI is catalyzing this transformation today, with manufacturers observing the following benefits –
Improved and expanded production processes, lines, facilities and products
Sequenced and defects-free packaging and labelling
Prevention of defects and recalls
Keeping ahead of competition
While the above is a dropdown of the advantages accruing to manufacturers, listed below are the five primary ways AI is spurring intelligent manufacturing –
1) By predictively maintaining systems – It is well known that manufacturers are constantly searching for a reliable method to enhance operational efficiency and reduce maintenance expenses. AI has given them a solution in the form of predictive maintenance. By combining cognitive AI technology, intelligent sensors, and an interconnected network of machines which work together to continually monitor devices on the factory floor, the following is accomplished:
Monitoring equipment conditions to ensure they are serviced only when necessary, reducing downtime by avoiding scheduled maintenance.
Empowering equipment to self-assess their efficiency, order replacement/ substitute parts, and schedule field technician visits as required.
Predicting future failures using Big Data-driven algorithms, enabled by AI-powered digital twin technology.
These achievements are supported by a McKinsey study which states that "the implementation of AI-enhanced predictive maintenance for industrial equipment can yield a 10% reduction in annual maintenance costs, up to a 20% decrease in downtime, and a 25% reduction in inspection expenses, thereby delivering rapid financial benefits to manufacturers."
2) Through near-accurate demand forecasting and planning – Through their continuous monitoring capabilities, AI-based systems have made seamless quality control easily achievable. This integration of product quality inspection with intelligent equipment maintenance has initiated a new era of highly precise demand prediction, resulting in:
Enhanced coordination and planning across various functions including marketing, sales, accounting, supply chain management, and finance, leading to more accurate forecasts.
Manufacturers being better equipped to swiftly respond to new data regarding product launches, supply chain disruptions, or sudden shifts in demand.
3) Through better supply chain management – Year-on-year McKinsey studies have found that AI-driven systems have reduced –
Supply chain forecasting errors by 50%,
Transportation expenditure by 5% to 10%
Warehousing and supply chain administration costs by 25% to 40%
These statistics send a clear and compelling message – that it is time manufacturers shook off their apprehensions related to embracing automated material procurement, and integrated AI algorithms into their procurement, strategic sourcing, and cost management operations.
AI is also proving to be invaluable in analyzing the vast amounts of data global supply chains generate to provide manufacturers with insights for optimizing processes and swiftly adapt to changing market conditions.
4) By enabling buyer-centric/ hyper-personalized manufacturing – AI and ML technologies are elevating personalization to a new level for companies by creating intelligent industrial processes that adapt to the changing demands of customers. This is corroborated by a Deloitte survey which has revealed that 20% of consumers are open to paying a 20% extra charge for personalized goods or services; a discovery that aligns with the current trend among brands which are increasingly customizing their products to establish stronger trust with their clientele.
5) By integrating Quality 4.0 into the manufacturing environment – While there is no doubt that AI is driving quality and compliance for manufacturers, contemporary algorithms are encountering significant hurdles when it comes to adhering to existing quality, production, innovation, safety, and conformity standards. Quality 4.0, also known as the fourth wave in quality and compliance, was conceived to tackle these emerging challenges and is doing so effectively by leveraging Big Data, the Internet of Things (IOT), and AI.
In conclusion
Intelligent Manufacturing is about the harmonious integration of various components to form a more extensive and intelligent system. Thanks to this integration, manufacturers today are being able to adopt a proactive approach rather than a reactive one which is allowing them to direct their focus and efforts towards future-oriented strategies and creating an empowered, efficient workforce.