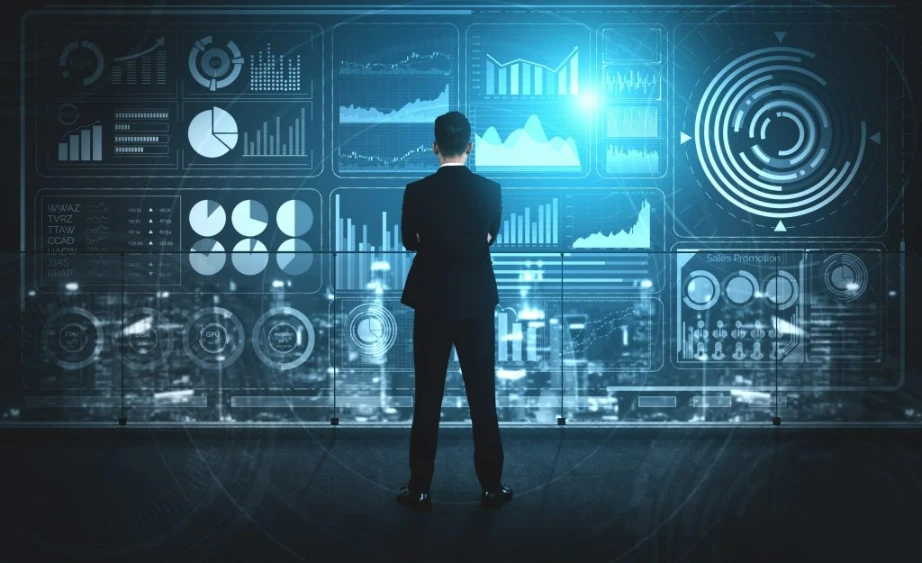 Data. It has influenced the digital age to the extent that forward-looking organizations have streamlined data with their processes to lead the way to multifold growth. Several key market players are recognizing how data's confluence with business systems is changing the way a business prospers.
Data is being leveraged to deliver better solutions to solve an organization's most complex problems through advents across a multitude of sectors. As it continues to evolve at a breakneck speed, the digital economy's ability too, to collate and analyze massive amounts of digital data from digital footprints has become astounding. Global internet protocol traffic, suggests how the world utilizes its data and concludes that we're only in the early days of the data-driven economy. As per UNCTAD, data traffic in 1992 was 100 GB per day, 100 GB per second in 2002, 46,600 GB per second in 2017 and will grow to 1,50,700 GB per second by 2022. With digital economy growth, data will become interwoven with all aspects of the business including global data value chains.

Cusp of a new digital era
Digital transformation technologies like the internet of things (IoT), cloud computing, automation & robotics, and AI & data analytics are enabling and accelerating business change opportunities throughout the world. As they take shape, data is estimated to immensely contribute to the intangible infrastructure of the economy. One such example, Big data is aiding analysis, value creation & application of AI through "mined" insights that are driving decision making in businesses. Big data is also leading to the next level understanding of business & social dynamics by collecting, measuring, and analyzing data to predict and automate business processes.

Data creates value
There has been a massive shift in the way the world is perceiving data in the past decade.
In healthcare – Facing a dearth of appropriate healthcare data, earlier medical practitioners relied simply on their intuition for patient diagnosis. Now with the availability of disparate data sources like Electronic Health Records (EHR), telemedicine platforms, patient management portals, and machine learning for healthcare, AI-based quantitative assessment is enabling doctors to better address health issues. Leveraging data sets obtained from the healthcare industry is leading to greater health outcomes through AI-driven healthcare strategies that are offering standardize care, patient satisfaction, enhanced quality & reliability and thus increased revenue.
In retail – With big data, predictive and descriptive analysis making way into the retail space, retailers are leveraging data to make strategic decisions related to customer interaction, product development, pricing, and inventory control. Customer data platforms are creating real-time personal experiences while driving marketing effectiveness. Business intelligent solutions are uncovering patterns of customer buying behavior, mapping user journeys, and assessing what & when they are most likely to buy next. Technology is helping collect, store and deliver data that is aiding enterprises to discover strategic and transactional value.
In manufacturing – It is through artificial intelligence technologies like IoT & edge computing in the manufacturing industry, organizations can harness valuable data to manage and improve the product life-cycle process. Data drives product concept design, data modeling & design knowledge to facilitate the development of robust design optimization. The outcome? Sustainably competitive products. Through such semantic linkages, data supports the interoperability between engineering and business tools. When this digital knowledge is gained & scaled to business processes it propels a manufacturer's business into product innovation.
How is CLOUDSUFI enabling this digital transformation?
We integrate strategy, innovation, data, and technology to streamline an organizations' internal processes, build its tools and implement solutions that drive value. We:
Define an organizational plan – Assisting organizations through personalized care models, data innovation, technical, and subject matter expertise to develop intelligent strategies, we create roadmaps for acquiring, securing, analyzing & monetizing data for you.
Employ analytics to gain insights from unstructured data – Advanced analytics help integrate an immense amount of structured and unstructured data & streamline it to match organizational capabilities. Global digital interactions also play a significant role in exceeding customers' expectations which CLOUDSUFI safeguards by mitigating inefficiencies, inconsistencies, and vulnerabilities across business operations.

Data turn insights into action – By building agile, strategic approaches to data governance and the use of predictive analytics systems to measure future outcomes, CLOUDSUFI captures organizational data to map new market opportunities for businesses. Verifying and validating the apt strategy well suited for a business, we help build a robust infrastructure.

How can data be harnessed?
New digital technologies are rapidly transforming the world economy. The bigger the digitization, the more the means for tackling global data challenges. Complexities arising during the implementation of digital data can be tackled with robust business systems and harvesting the potential value of data. Data can thus create value only when it is transformed into digital intelligence and is monetized to generate revenue.
In the long run, a winning strategy to establish oneself as a data monetized organization must be assessed from the viewpoint of current strengths & an organization's resolve. This tactical analysis will leverage an enterprise towards a sustainable competitive advantage.